TRL Krosaki Leverages Microsoft Dynamics 365 to Improve Customer Experience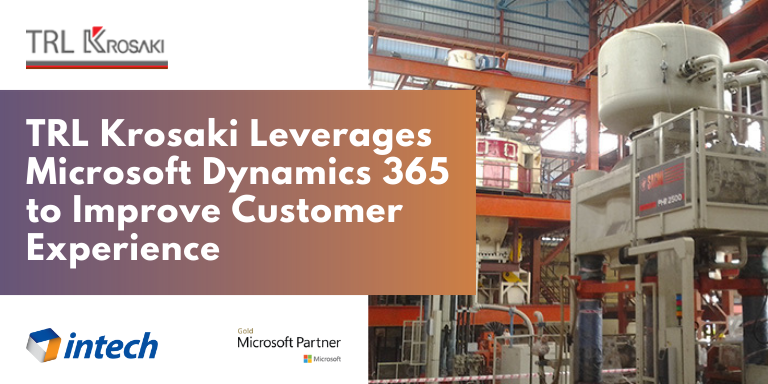 TRL Krosaki Refractories Limited, a leading refractory manufacturing company in India, partners with Intech Systems, a Microsoft-certified Gold partner, to implement a system that could automate all sales and marketing activities for their organization and create a central data repository to improve the effectiveness of all customer-related operations.
To ensure that the interests of their customers always take center stage, TRL Krosaki decided to invest in a CRM solution. Intech Systems implemented a solution that enabled the organization to get all touchpoints in place to track and optimize the end-to-end customer lifecycle.
With Dynamics 365 CRM driving the integration of different processes, TRL now has a 360-degree view across marketing, sales, and customer service. The organization also leveraged data and intelligence to improve services. The use of Power BI for reports gives an integrated view across ERP and customer engagement.
The entire value chain has been reinforced and is enabling TRL to achieve its business objectives. The organization has witnessed a notable improvement in process management, transparency, and the overall effectiveness of operations.
"We look at Dynamics 365 CRM as more than a solution, it is a company-wide business strategy, designed to improve revenues and profitability by reducing costs and increasing customer loyalty. We can understand customer requirements and expectations on a real-time basis," said the Senior General Manager (ICT) & CIO, CISO, at TRL KROSAKI REFRACTORIES LIMITED.
We are honoured to have TRL Krosaki partner with Intech Systems for this project," said Anuja Parikh, CEO at Intech Systems. "We look forward to a long and successful association by delivering the best of the solutions in the industry that will enable the organization to accomplish their business goals swiftly and more efficiently."
Please visit https://lnkd.in/ekmwcKfQ for more detailed information on how Intech Systems helped TRL Krosaki leverage D365 CRM to improve customer experience.
About TRL Krosaki:
TRL Krosaki is an Integrated Management Systems (IMS) certified company and is the No.1 refractories manufacturing company in India. It manufactures a wide range of products like Basic, Dolomite, High Alumina, Monolithics, Silica, Taphole Clay and RH Snorkel Refractories. The company also provides technical services to its customers in the form of Refractories Management Services, Refractories Engineering Services and Technical Support Services.
About Intech Systems:
Intech Systems is a boutique IT services company focused on providing world-class implementation and support services for Microsoft Business Applications. Our wide range of services helps companies in their digital transformation journeys by providing technology solutions, including – Microsoft Dynamics 365, Microsoft Dynamics F&O/AX & BC/NAV, Microsoft Dynamics CRM, Microsoft Azure, Power BI, Power Apps, and more. In addition, Intech also offers a range of complementary business solutions, such as Office 365, HR and Payroll solutions, IoT, and AI solutions. With offices in India and the US, Intech has a rich experience of over 40 years, with more than 100 certified consultants,  having implemented projects in 10+ countries. We are amongst the top Microsoft Dynamics managed partners in India, and a Microsoft-certified Dynamics ERP Gold Partner.