Intech Is Now "Great Place To Work" Certified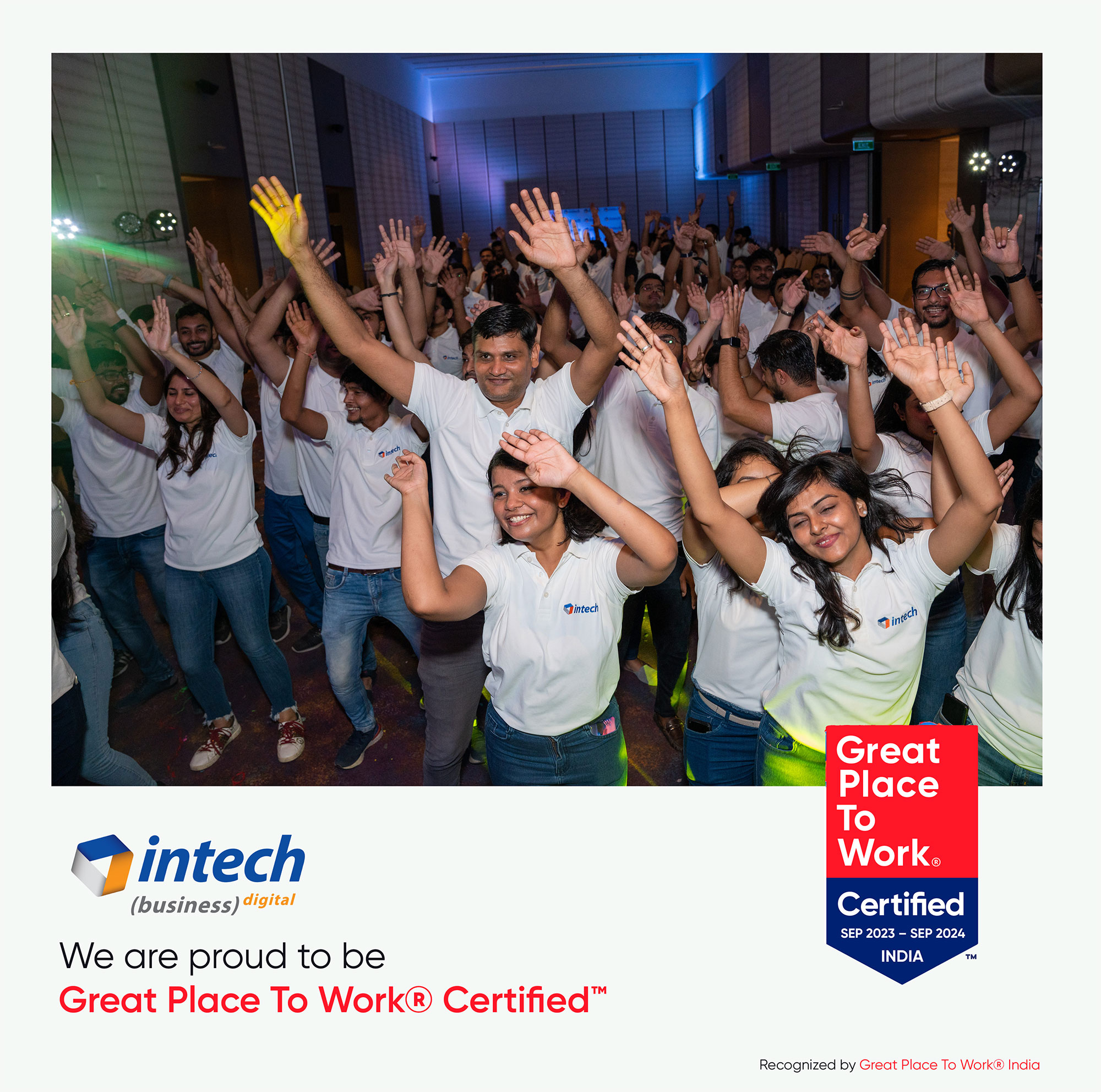 Ahmedabad, September 28th, 2023– Intech Systems has been Great Place To Work® Certified™ in India (from September 2023-24). Intech's commitment to diversity and inclusion, gender balance, growth opportunities, flexibility, a thriving learning culture, employee well-being, innovation, and fostering a strong team spirit has paid off in a significant way. This certification serves as a validation of the hard work, dedication, and passion that each member of the team brings to the table every single day.
Great Place To Work® is the global authority on workplace culture. Since 1992, they have surveyed more than 100 million employees worldwide and used those deep insights to define what makes a great workplace: trust. Their employee survey platform empowers leaders with the feedback, real-time reporting, and insights they need to make strategic people decisions. The Institute serves businesses, non-profits, and government agencies in more than 60 countries and has conducted pioneering research on the characteristics of great workplaces for over three decades.
"At Intech Systems, we believe that success is not merely measured by numbers, but by the lives we positively impact. Our journey towards excellence is a testament to the unwavering dedication and collective spirit of our remarkable team. Together, we continue to innovate, inspire, and shape a future where possibilities are boundless," said Deval Parikh, MD of Intech Systems.
In India, the institute partners with more than 1400 organizations annually across over 22 industries to help them build High-Trust, High-Performance Cultures designed to deliver sustained business results. Hundreds of CEOs and CXOs from India Inc. are part of the great place community that is committed to the vision of making India a great place to work for all. The Institute's research shows that great workplaces are characterized by great leadership, consistent employee experience, and sustainable financial performance. These organizations can deliver a consistent experience to all their employees irrespective of their role, gender, tenure, or level. Their leaders believe in the vision of creating and sustaining a great place to work for all and role models for all leaders.
Learn more at https://www.greatplacetowork.in/ and on LinkedIn, Twitter, Facebook and Instagram.
About Intech Systems:
Intech Systems, a Microsoft-certified Solutions Partner based in India, is a renowned industry player with a legacy spanning nearly four decades. Their extensive experience has been marked by successful project deliveries across diverse domains and sectors. Distinguished as a three-cloud Microsoft partner, they possess the expertise to offer tailored solutions rooted in Microsoft Azure, Microsoft 365, and Microsoft Dynamics 365. Intech Systems' solutions are finely crafted to address individual needs, harnessing the power of artificial intelligence, data analytics, and automation. With a visionary commitment to catalyzing the digital transformation of operations-centric organizations worldwide, they aspire to be a trusted partner in their clients' journeys toward growth and innovation. Beyond being mere service providers, they function as digital enablers. Interested parties are invited to explore their website to discover how Intech Systems can facilitate the realization of their goals.