Four Years Strong: Intech Systems' Commitment to Diversity and Inclusion!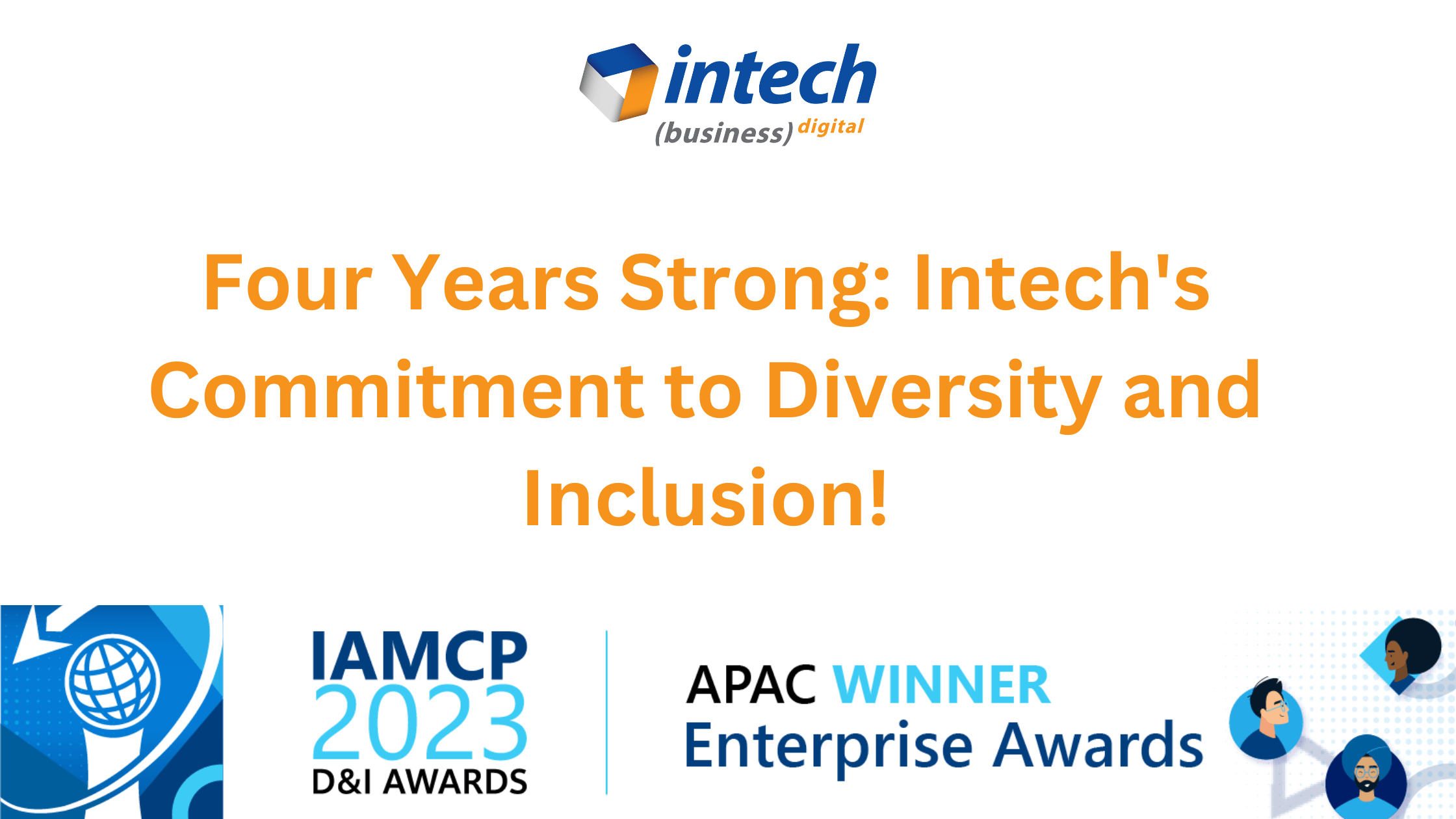 Intech is proud to announce that it has been honored with the 2023 IAMCP D&I Gavriella Schuster Partner of the Year award for the fourth year in a row. This prestigious accolade recognizes the company's commitment to creating a diverse and inclusive work environment.
Diversity and inclusion have been a cornerstone of Intech's culture since its inception. The company believes that a diverse workforce and an inclusive workplace are essential to its success. The distinction of winning the D and I award for four consecutive years is a testament to the hard work and dedication of the entire team in promoting and cultivating a work environment that values diversity, equity, and inclusion.
The Gavriella Schuster D&I award is a highly respected award that acknowledges companies that have made significant strides in creating diverse and inclusive workplaces. The International Association of Microsoft Channel Partners (IAMCP) holds this annual award ceremony to acknowledge companies within the Microsoft ecosystem that demonstrate a remarkable commitment to implementing diversity and inclusion practices in their workplace.
"Winning the D and I award for the fourth year in a row is a notable achievement, and we are extremely proud of this accomplishment," said Anuja Parikh, Intech's CEO. "We are pleased to have our efforts recognized at an international level, and we look forward to continuing our work toward creating a more inclusive and diverse workplace."
Intech's commitment to diversity and inclusion is reflected in its hiring practices, employee training initiatives and development programs, and community outreach efforts. The company is dedicated to building a work environment that is welcoming, inclusive, and supportive for all employees, regardless of their race, gender, sexual orientation, age, religion, or cultural background.
IAMCP was particularly impressed with Intech's efforts to close the gender gap and create a diverse and inclusive workplace. The company witnessed a 400% increase in female employees over the last three years, which serves as a testament to their ongoing commitment to gender equality. "However, it is not just about gender for us," says Nidhi Maheshwari, Senior Manager- Human Resources at Intech Systems. "We aim to create diverse teams that value differences and embrace them as cultural adds rather than trying to fit people into a specific mold. "We are grateful to IAMCP for acknowledging our support model for working mothers, which includes flexible working arrangements, maternity and paternity leaves, and assistance in the transition back to office life. Diversity and inclusion are not buzzwords for us, they are critical to our team's success."
The D and I award is a notable achievement for Intech and underscores its unwavering commitment to promoting diversity, equity, and inclusion. Intech Systems remains steadfast in its commitment to diversity and inclusion and will continue to implement initiatives that promote diversity and inclusion, both within its workplace and in the wider community.
About Intech Systems
Intech Systems is a boutique IT services company focused on providing world-class implementation and support services for Microsoft Business Applications. Intech's wide range of services helps companies in their digital transformation journeys by providing technology solutions, including – Microsoft Dynamics 365, Microsoft Dynamics F&O/AX & BC/NAV, Microsoft Dynamics CRM, Microsoft Azure, Power BI, Power Apps, and more. In addition, Intech also offers a range of complementary business solutions, such as Office 365, HR and Payroll solutions, IoT, and AI solutions. With offices in India and the US, Intech has a rich experience of over 40 years, with more than 250 certified consultants, having implemented projects in 10+ countries. They are amongst the top Microsoft Dynamics managed partners in India and a Microsoft-certified Solutions Partner for Business Applications.