Intech delivers another super event on Digital Transformation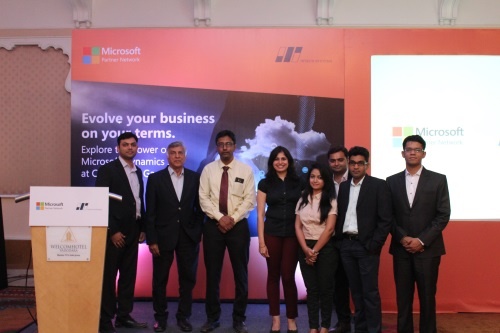 Intech's event, in association with Microsoft India, on 'Explore the benefits of Dynamics 365' remained a great success.
The event was conducted on 17th February, 2017 in Vadodara. Speakers from Microsoft, Intech and Intech's customers gave insights about various topics in the event. It started with a warm welcome of all the guests by our Co-founder and Chairman Mr. Ashok Mehta.

Mr. Chirag Bakshi, Chartered Accountant and a Partner with K. C. Mehta & Company briefed the audience about the much discussed GST Law. He enlightened the attendees about how GST, along with a good ERP system will benefit companies. With this newly enacted law, organizations will find ERP as a perfect alternative to comply with GST laws in a much better and smoother way.
Technology is transforming our lives and businesses at a much greater pace than ever before. Companies that understood and harnessed the power of this digital disruption have redefined their business processes and revolutionized the business landscape. How to make the most of cloud-first and mobile-first technologies was addressed by Ms. Anuja Parikh, Director of Intech Systems.


Mr Ashok Dash, Senior Partner Account Manager at Microsoft India unveiled the newly introduced Dynamics 365 – an integrated ERP and CRM Solution. This unique solution helps you empower your employees, engage with your customers, optimize your operations and transform your products. The attendees were thrilled as all their questions about Dynamics 365 were answered. Ashok helped them explore many ways to move their business on cloud and how to benefit from the same.
The event ended with a panel discussion by Intech's existing customers on how Microsoft technologies are helping companies today. They also shared their experience of implementing ERP and CRM systems, value derived and the dramatic change that has been brought about.
All-in-all, every attendee was satisfied with the event and looked forward to a good relationship with Intech and Microsoft. Did you miss our event? Give us a call and we would love to help you and your business.