As a small business owner, you are always looking for ways to save time and money. As fellow entrepreneurs, we know how much time you have to dedicate to managing your finances and doing business-related tasks like filing taxes or collecting receipts.
Most start-ups soon find that manual bookkeeping is not sustainable as their business grows. Using accounting software to manage your finances reduces repetitive tasks, helps keep better records, and produces professional-looking financial reports.
Accounting software can help by relieving you of the need to manually track your finances in spreadsheets or on paper, saving you both time and energy (which means more cash in your pocket).
QuickBooks is a popular accounting software that helps small and mid-sized businesses process bills and make business payments.
This software has become one of the leading accounting software for small and medium-sized businesses (SMBs), with nearly three-fourths of the global market share. This accounting system can invoice customers, settle bills, render reports, and even prepare taxes!
There are two main products in the QuickBooks line made by Intuit: the desktop version, QuickBooks Desktop, which is installed on a computer and hosted locally, and QuickBooks Online (or QBO), which is hosted on the cloud and is accessible from any computer, tablet or smartphone with an internet connection.
Despite its continued popularity, QuickBooks's reign as the top accounting software for small and midsize businesses may finally be coming to an end.
Users' access to QuickBooks Desktop Payroll Services, Live Support, Online Backup, Online Banking, and other services through QuickBooks Desktop 2020 software will be discontinued after May 31, 2023. This also means your software won't support critical security updates, starting June 1, 2023.
So what does this mean for small-to-mid-sized businesses like yours looking to streamline and simplify the accounting process?
It is time to migrate to the latest Microsoft Dynamics Business Central!
Microsoft Dynamics 365 Business Central is a cloud-based solution that connects sales, service, finance, and operations teams to enable them to make smarter decisions faster.
Business Central provides a connected cloud business management solution for growing small and mid-sized businesses. It offers several benefits, such as seamless integration with other business applications, cost-effectiveness, enhanced customer experience, scalability, extensive security features, compliance, and easy accessibility. What are the features that make it a top choice among ERP systems? (See image.)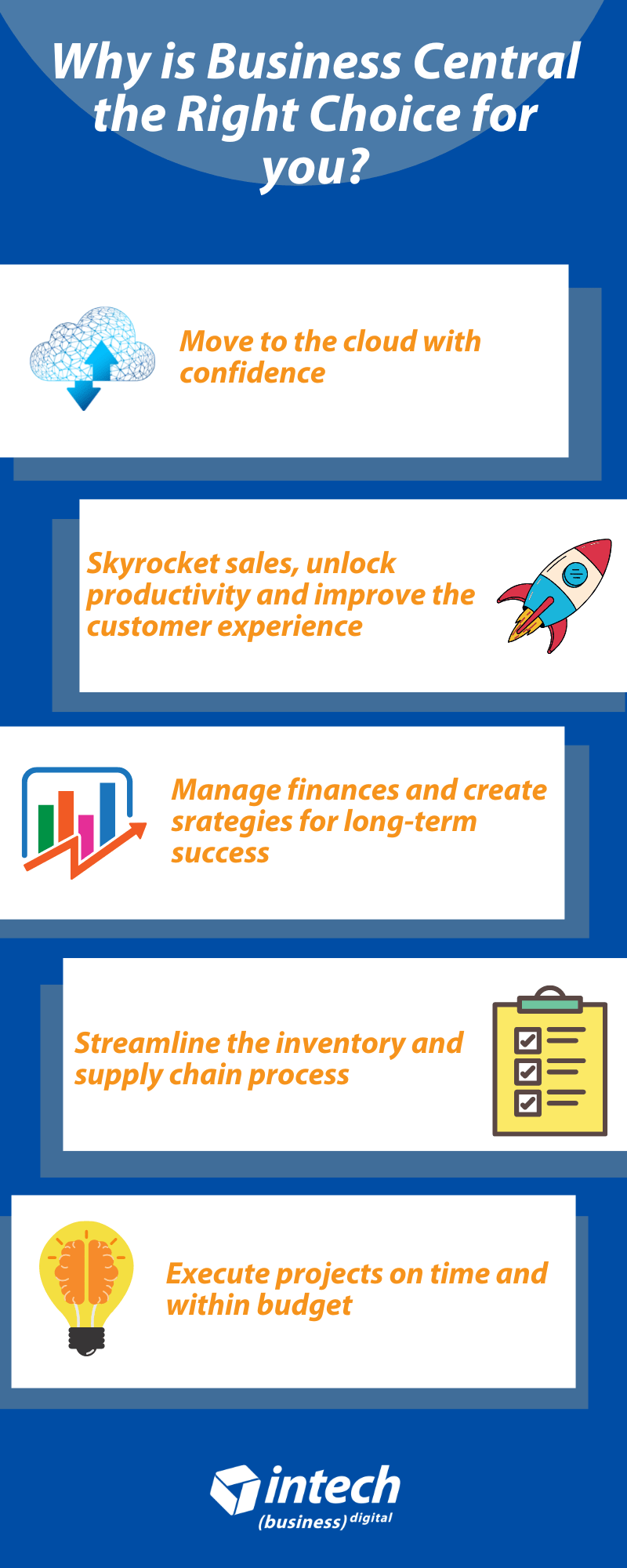 What's more, Business Central also includes web-based reporting portals that support heavier transaction volumes and a higher number of users as compared to Quick Books.
Even though some versions of QuickBooks may continue to operate well beyond 2023, most QuickBooks users are convinced that they are better off migrating to the new and enhanced Business Central. Do you want to know why?
Check out the comparison below:
These enhanced functionalities make it possible for you to confidently move your business to the cloud and achieve operational speed, execution, and insights needed for continued growth.
So, are you ready to take the first step toward a brighter future?
Get in touch to migrate to the latest and upgraded Dynamics 365 Business Central!
If you are still unsure whether Business Central is right for your small business, we have something that will help you make up your mind.
Join us for our webinar, "Upgrade from QuickBooks to Dynamics 365 Business Central," if you want to learn how you can connect your financials, sales, service, and operations to succeed like never before. The details are mentioned below:
Date: Wednesday, 25th of Jan 2023
Mode: Online, Microsoft Teams
Time: 3 PM – 4 PM IST
Register today to learn how Business Central can help you stay ahead of your competition!
Register now: https://forms.office.com/pages/responsepage.aspx?id=5oP_ILS1_kqR3DuWKclpXxld7P1xhk9Eg8KcfkdI9mhUNFIwMFg4UEgzNThOUEhSNjVUTkI3U1NJWS4u