The professional services industry is undergoing a period of rapid change, as economic changes drive clients to demand excellent service delivery in addition to value for money. It has become more important than ever for businesses to deliver top-quality services to meet these increased expectations.
Most industries worldwide have adjusted to the new normal, regaining pre-pandemic levels of efficiency. As a result, in 2021, the global professional services market grew to over $6 trillion, an impressive increase from the last decade's number of only $4 trillion. Professionals are adopting new technologies such as artificial intelligence and automation to enhance their productivity – a move that has also helped drive this growth.
However, as more professional services firms adopt innovative digital practices, competition in the industry has never been so fierce. If your competitors can deliver better results in a shorter period because they are able to handle more projects at once, you may lose some of your most loyal customers. So, how do businesses keep up?
Many professional services firms are struggling with the challenges that come along with providing specialized expertise to clients in a fast-paced environment. The rise of these rapidly-evolving technologies has created many opportunities for the industry, but it also poses several challenges. Here are some of the significant challenges faced by the professional services industry today- (See image).
What are the top challenges facing the professional services industry today?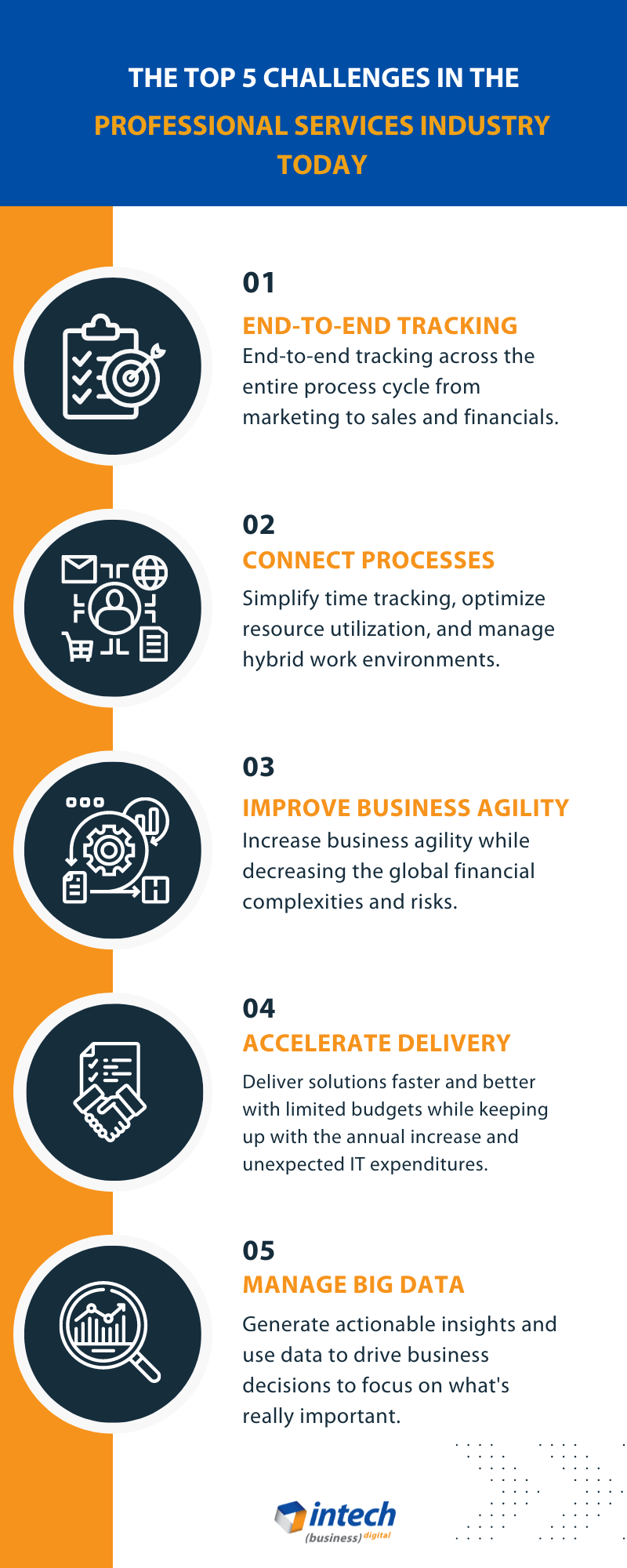 In the face of such challenges, how do you change your approach and find information that will help address these issues? When dealing with a range of clients and projects, oftentimes, it is hard to keep track of everything while trying to run your business at the same time.
While it is getting increasingly difficult to manage, with the right business tools, you can continue to grow and thrive in such an increasingly competitive environment. To mitigate the challenges that accompany these changes, you can leverage business tools such as Microsoft Dynamics 365 and Microsoft Power Platform for the professional services industry to streamline your project operations, manage projects more effectively, and always stay ahead of the competition.
If you want to drive a strategic approach and roll out efficiency across your organization while optimizing process flow and ensuring on-time delivery, implementing Microsoft Business applications for professional services could be a profitability-driven deal with a high ROI.
How do Microsoft Business Applications help?
Let's look at some ways in which Microsoft Business Applications are helping professional services firms manage their operations better:
1. Budgeting and Planning
Dynamics 365 for Finance and Operations helps businesses maximize profits, boost financial visibility, and prepare actionable insights that enable them to forecast their data. This leads to maximized scalability with high-level results.
2. Streamlining Project Operations
By leveraging the capabilities of Dynamics 365 Project operations, you can combine advanced project sales and delivery capabilities with accurate project accounting tools and planning/management functionality to boost profitability. Moreover, you can also drive success throughout your project-based business by gaining visibility into prospects, collaborating with partners and suppliers, and achieving agility across key operating functions.
3. Lead Nurturing and Campaign Management 
Employ the Dynamics 365 Marketing module to orchestrate customer journeys and use targeted messaging and advertising campaigns to deliver the right message at the right time to significantly improve your chances of conversion.
4. Sales Management
Generate actionable insights that help you track leads, ensure personal engagement with customers, and create sales forecast reports to gain visibility into your sales performance. You can do all of this and more with the Dynamics 365 for Sales module.
5. Managing Human Resources Operations and Payroll
Engage and deploy the right talent, optimize your resource allocation, instantly resolve issues and increase employee satisfaction to improve your efficiency levels with the Dynamics 365 for Human Resources module.
6. Gain Business Intelligence Analytics
Microsoft Power Platform provides professional services firms with critical capabilities for improving service quality and managing projects and resources, as well as packaging expert knowledge in new ways. With the business intelligence capabilities of Power BI, expert analysts can combine data from internal and external sources and analyze this information in different ways, making connections between disparate pieces of information to explore broader implications for the clients.
7. Work Smarter with the low-code/no-code Power Apps Platform
The Microsoft Power Platform is a unique suite of services that help firms unify and leverage their data, upskill their entire workforce, and develop super-specific, easy-to-code apps that improve the client experience—all while boosting the bottom line. Businesses can reduce their development costs and do more with less by enabling everyone to rapidly build and share low-code apps using Microsoft Power Apps.
Ensure your business succeeds, no matter what.
A digital transformation process can be a difficult and time-consuming endeavor, but it's the only way to remain competitive in today's marketplace. It also provides an opportunity for professional services companies to reevaluate their methods and improve the way they operate. These changes will help the team reach their project management goals and earn client approval.
The Microsoft Business Suite has been a driving force behind the success of thousands of organizations worldwide. It offers enhanced project management capabilities, streamlined financial reporting on projects and resource utilization, and improved business impact through greater visibility into internal operations.
Professional Services organizations that leverage this digital force can lead successful, profitable project-centric businesses while future-proofing their technologies, systems, and processes for 2022 and beyond.
Are you wondering how you can make your business more agile?
Join us at our exclusive event, "Powering digital transformation across the Professional Services sector with Microsoft Business Applications," to learn how your business can grow by modernizing its systems with Microsoft Business Applications. We'll discuss strategies for increasing revenue, reducing costs, and remaining agile across the Professional Services sector.
Register now
We at Intech are empowering hundreds of other businesses across the professional services industry to leverage Microsoft resources to the fullest extent possible by integrating with their existing infrastructure, and your business could be the next.
If you can't make it to the event but want to learn more about how Microsoft Business Applications can give you an edge in today's fiercely competitive market, talk to one of our experts today!
Contact us at sales@intech-systems.com